Laura Blythe Liu:Teacher Educator International Professional Development as Ren
发表时间:2015-09-10 11:00:29 浏览次数:
Laura Blythe Liu
Teacher Educator International Professional Development as Ren
Springer 2015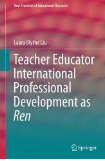 Teacher-educator international professional development involves personal and professional, research- and practice-oriented, and pragmatic and aesthetic growth. This text encourages teacher educators to explore this work as Ren, or benevolent human beings, in cultivating global professional communities. As faculties engage in Ren as a vital 21st century form of development, new insights may emerge for how to revive and apply this concept in our changing global society. This text begins by discussing evolving concepts of achievement in an era of globalization, contrasting comparative conquest with global notions of relational integrity. Evolving aspects of achievement in 21st century China are also included. The text goes on to explore aspects of 21st century teacher quality and professional development, before presenting a theoretical framework for the international professional development of teacher education faculties as a process of becoming professional individuals, research-based practitioners, and aesthetic engineers. Narrative inquiry, including the aesthetic approach employed in this text, is described as the research method used to explore the development of 15 faculty participants in this text's case study of one teacher education research center at a Chinese university. Findings from the author's two-year immersion at the research site involve three overarching "complementary contrasts," or "tensions held in balance," across the 15 faculties in this study. These tensions included harmonizing (1) community and individuality, (2) adaptability and expression, and (3) authority and compassion. The findings are discussed in light of the original theoretical framework for teacher-educator international professional development by integrating participant interviews, research publications, and further observations into current academic discourse. The text concludes by offering implications for teacher-education practice, research, and policy for China, and other countries including the U.S., and suggests how the findings connect to global academic discourses on teacher-educator professional development across international settings.
信息来源:http://www.springer.com/cn/book/9783662469705
上一条: Huang Ronghuai:Reshaping Learning
下一条: Du Yuhong:Research on Compulsory Education Financing in China