【已结束】【讲座预告】Teaching at Scale: Connecting accredited University provision and open MOOC learning
发表时间:2018-04-11 18:47:04 浏览次数:
Dr Jeremy Knox
Co-director of the Centre for Research in Digital Education
The University of Edinburgh
时间:4月17日 下午2-4点
地点:京师科技大厦A座3层西一会议室
Abstract
This presentation will discuss the design and delivery of a recent Massive Open Online Course (MOOC) entitled 'Introduction to Social Research Methods' (known as 'SOCRMx'). Offered on the edX platform, this pioneering design combined an accredited University of Edinburgh online Masters course with the public-facing format of a MOOC, thus demonstrating innovative ways of approaching distance learning at scale. During the academic year 2017/18, students from the University's MSc in Digital Education programme participated in the MOOC as a formal part of a 20-credit course on social science research methods. Over 2000 members of the public also participated, creating a vibrant and inspiring community of international learners, both within the University and beyond. This presentation will highlight the key design aspects of the SOCRMx MOOC intended to accommodate the different motivations and interests of a broad range of learners: enrolled students seeking formal accreditation as part of the MSc in Digital Education; University students from other programmes and schools interested in social science research methods to support their existing learning; students not enrolled at the University looking for additional materials to those provided by their current institution; educators and teachers from the University and beyond interested in finding out how MOOCs are taught; and members of the public interested in life-long learning. This diversity of student population is a significant challenge for the 'open' format of the MOOC, and the future vision of distance learning at scale. The student-centred SOCRMx MOOC design provided a choice of routes through the course materials, video contributions from a range of academics across the University, formative quiz assessments, and a final peer assessment exercise. The talk will conclude with an overview of the data analytics deriving from two instances of the course, as well as future recommendations for approaching distance learning at scale.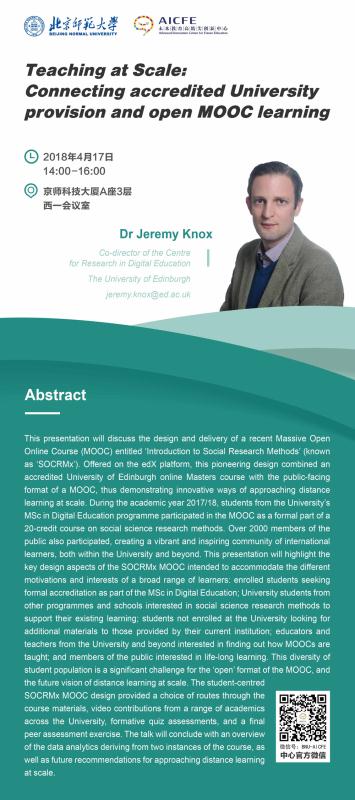 上一条: 【已结束】【讲座】美国教育史系列讲座
下一条: 【已结束】【系列讲座】教育的美国与西方传统:功用论抑或自由论?